This bit titted blonde is a nasty slut always searching for someone new to fuck. Her stupid husband of hers can't satisfy her proper therefore she goes to a rough neighborhood to find someone right for her. However a rough John Persons interracial encounter is what this bitch gets. She is grabbed by two black fellas with enormous shlongs and shagged in all her holes rough. Cum inside www.johnpersons.com and watch her taking a cock up her ass and another down her throat simultaneously.
If you want to know more about her you should note that she's a very cock hungry lady. And you should also note that she usually wants to go out of her way to get some every night, or hell every time she feels the need for her ass or pussy filled by some hard dick. So for this one we bring you this super sexy blonde that was just minding her business as usual, well by that we mean she was walking the street to scope guys out in order to have sex with.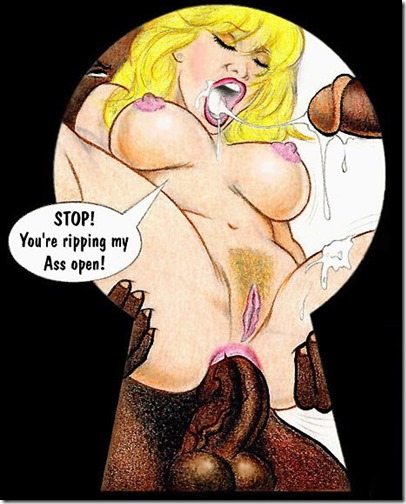 And surely enough she caught the attention of two black guys with big cocks as she was walking down the street in her skimpy dress that did little to hide her superb body shape. Like all John's  cartoons you know this blonde slut is going to be in for a rough fucking by the huge meat poles by the end. So as the two keep following her eventually they catch up to her and start to flirt with the lady. Since she was abruptly approached she didn't respond at first but, she was starting to feel more and more intrigued by the minute and with every provocation from the guys.
And after a while she said " what the hell" and she told them to follow her to her home. So the guys surely were happy as they could be since they'd get to tap that pussy and tight ass of this sizzling hot housewife. As soon as they entered the door they started to remove her revealing clothes to bring forth her big titties , round ass and wet pussy. And it's all here in these free pictures. After they stuck their big man meat in her mouth and thoroughly worked her throat, they went straight for her pussy.
So just sit back, relax, and watch as they start to plunge their poles in her small cunt for some sweet double penetration and then watch them fuck her ass hard style. Their cocks are so huge though that they nearly crack her ass open from the fucking. Until next time have fun with this one and be sure to check back soon for more of your favorite comics. As you know we have fresh episodes every week of the month and you know we're not shy about showing them. Bye Bye.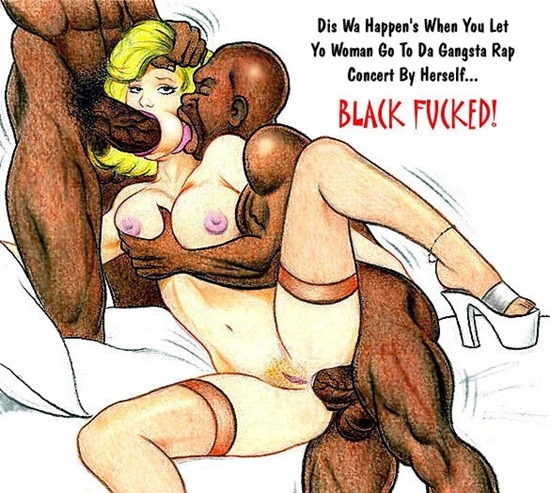 Watch this nympho getting nailed by two black players!