Cum inside John Persons cartoon galleries and watch this poor woman running into a gang of horny black fellas on her wedding day. She gets all her tight holes stretched to the limits by those black monsters but she loved it. She was suppose to have one of the best days of her life, and to a certain extent she did. At least in the form of some proper and thorough dicking by some huge black cocks. Well to some degree of your relief, what can you expect when her husband had all his men of honor be black guys with huge black dicks.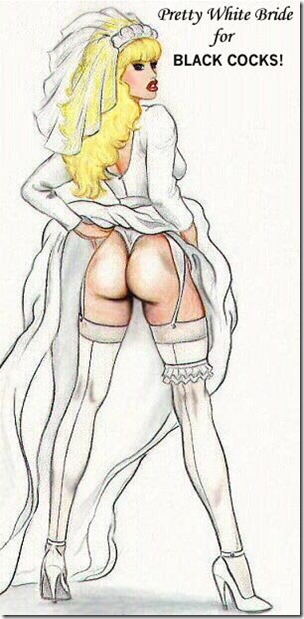 So this time John brings you the superb wedding day of this cock sucking expert and her exploits after the procession, which we think might make it the shortest marriage in history until one of the mates cheats on the other. The procession went along fine, with everyone being happy, and the woman and her man exchanging wows and the priest declaring them husband and wife. The lovely lady retreated to a private quarter to change from her wedding dress into her, you know party outfit, for the evening. well those black men we mentioned earlier? They were plotting to get her to suck their cocks all this time in some interracial taboo art and now they were having their chance.
Yeah so they barged right in, and admired how pretty and beautiful she looked in her dress. And then they started to make remarks regarding her body. Which kind of started to turn her on. The guys took out their horse hung cocks and they just told her upfront to enjoy some extra wedding gifts before she's going to belong only to her man. Somewhat reluctantly she agreed and started to stroke their massive cocks and started inserting them in her mouth for some nice interracial blowjobs.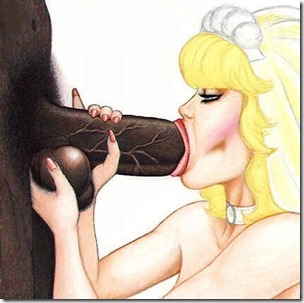 The guys didn't take long to shoot their warm jizz all over her new dress and in her juicy mouth and on her sexy lips. They thought they were done, but the horny lady had more plans. She took off her dress to change in front of them just to tempt them to fuck her more. And the guys were really not sure what to do now, as they were best friends with her man and they didn't want to do more than what just happened.
In the end they decided to abandon the idea of not getting laid with such a superb lady and they went for it. So you will be able to see them fucking that perfect cunt and ass of the lady in this superb update that we have here just for you. And you can be sure the slutty bride enjoyed every moment of the gangbang. Oh and yeah guys, don't forget to check back regularly as always, since we're bound to have more new JohnPersons stuff to show off. Bye bye and don't forget to enjoy yourselves everyone.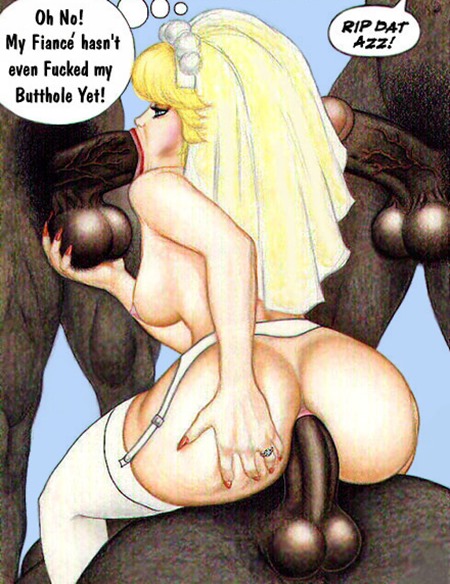 Watch this hot bride being abused by three ghetto guys!