On today's John Persons The Plantation update, we have these two buxom plantation spouses playing with the enormous black dick of a freshly purchased servant they have restricted in their barn.The Buxom ladies are two super hot blondes that can never get enough cock from their upper class men and they regularly decide to take random black men from the plantation form time to time like you'll see in this comic gallery. The two have the bodies of goddesses and they sure know how to put them to good use when they need to. So without further due, watch the two sensual blondes tie the black dude up as they intend to use him for their own personal pleasure times.
And let us tell you John sure outdid himself with this episode.Oh and we forget to mention that the two are about to get one hell of a surprise when they take the guy's pants off? Well turns out that the black man packs a walloping huge cock that they both find intriguing. The two ladies make themselves comfortable for the interracial fucking that's about to commence soon by removing their sexy dresses to reveal those huge breasts and round perfect asses.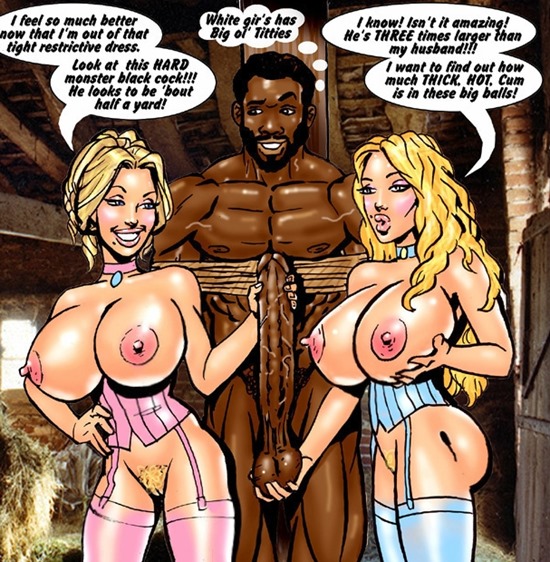 Watch them as they prepare the terrain, ugh we mean his cock for the thorough and deep pussy pounding they're going to receive. Be sure to check back soon for more as we'll be having fresh updates every week only here in these John Persons galleries where where horny white sluts take deep and hard core cunt poundings.You'll get to see just how wild white women get when they lay eyes upon huge black cocks every time.  And how horny they can get.
So until next time enjoy this episode of The Plantation where the Buxom ladies get to stick that big black meat pole in their dripping wet and tight pussies. Oh but the two house wives will need to learn how to share because well, there's only one of him and two of the horny them. Not that the guy doesn't have enough cock for both but you know the saying, love thy neighbor.
Well that's about all we want to say for this update, and we're just going to leave it to you to discover the full story. We don't want to divulge too much –We're well aware people don't like spoilers and we're sure you don't either- from the first images so just sit back and relax with this great sex story. So without any more delays watch this superb comic update today and like we said , be sure to check back soon for more. We're bound to bring you more of the things you like, namely more of this great and inventive artist's work so stay tuned and see what the future comics will bring as we're sure it will be something awesome. Enjoy!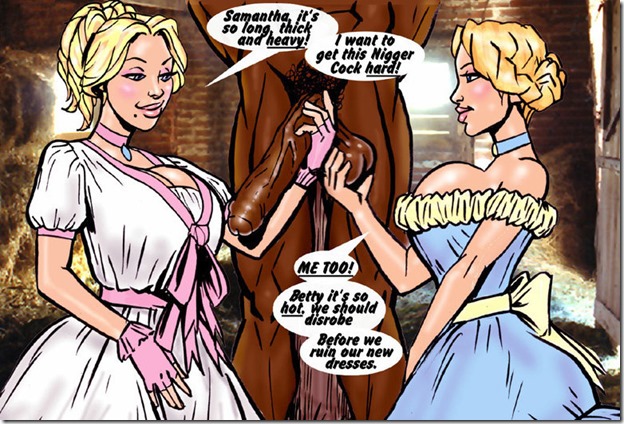 See these nympho wives sharing the same monster cock!