Today we have a new update of John Persons interracial taboo art. Watch this naughty wife with nice large ass having a great time with a black dude from the ghetto. She always had a thing for black cock and today she sees it come true. And all of this while her poor husband watches. Enjoy more of johnpersons cartoons inside our blog. So as you may remember from the last time we had the superb blonde wife taking a pounding a few updates ago. We return with episode number two.
So for this one you get to see the superb housewife along with all the intricacies that went on afterwards. The black man continued to fuck her as he penetrated her deeper and deeper. And these comics are fresh out of the oven for your enjoyment. The poor husband is forced to sit and watch at his wife while she's taking her thorough and deep anal fucking. And he's just so helpless he can't do anything. In vain he tried to convince the guy to stop or his wife from going along with it. It was like her hips had a mind of their own.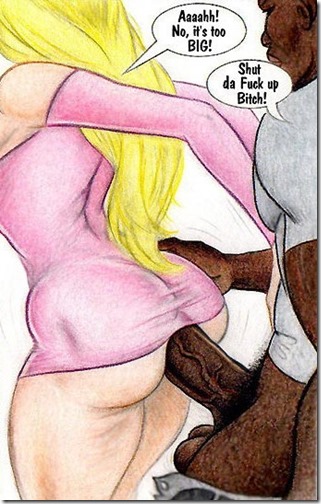 She kept going back and fourth and up and down on that huge black man meat, and even though she looks like she's not having fun, she's actually very pleasantly amazed by how good that huge dick feels inside of her tight ass. And the black guy still has more surprises up his sleeve. Even though he didn't fuck her with all of his cock for the most part, he was now really into it and just grabbed her waist and pulled her so deep on his cock that his balls were hitting her ass.
And after fucking her good and thorough she actually orgasmed herself from the superb anal sex. Not soon after the black man also came in her ass filling it up with his jizz. And then as he pulled out of her ass the cum just kept running and running without stop. So feeling really proud of his accomplishment he started to brag to the husband. telling him to take a good long look at his wife, and watch her get a new found love for big black cocks from now on, as she lay on the floor with his cum still spouting from the gaping hole that was her ass before.
So without any more delays we leave this update with you to enjoy it to the fullest. We're sure you'll enjoy this as much as all the rest , since it has the two most expected elements that make these galleries perfect. Namely, a hot blonde with a killer body and a big black cock fucking it. Enjoy everyone and be sure to come again for our next updates. Check out the cartoongonzo.us site if you wanna see other sexy ladies getting their pussies filled with cum!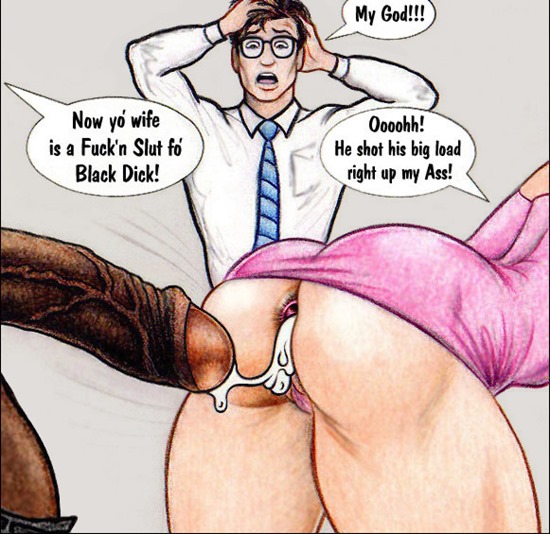 See this white babe anally shagged by black monster!