Here you have another JohnPersons all black edition. These three studs found this babe and thought they might use her later that day. So before you know it she was on her knees with three huge cocks in front of her and didn't knew were to begin. So one of the guys helped her out and shoved his huge cock in her eager mouth, while she was stroking another one in this gallery. Check her out in this awesome and new update.
The lady in question is a known journalist and she's been called to a drug bust. Well there were no drugs but there were three black guys which were pretty pissed for the fact that the police disturbed their fuck session with some white sluts and the ladies ran away. And the media was there too. So since they really wanted to get to fuck some pussy the three guys decided to go for the next best thing. Namely the blonde journalist lady which was rummaging around for answers.
So they had her on her knees to suck some black cock in this porn John Persons gallery on live TV. She admitted that she always wanted to sample some chocolate cock and hey, if she would be out of a job for this at least she'd know she'd be able to get into the porn industry. So watch her use her juicy lips to wet the cocks of the three huge black gentlemen. And you can be sure that she was in for a deep fucking too after the blowjobs. So without further due, enjoy this lady's sex session and don't forget we're always here to deliver you the best porn comics you can find. Until next time, we hope you enjoy!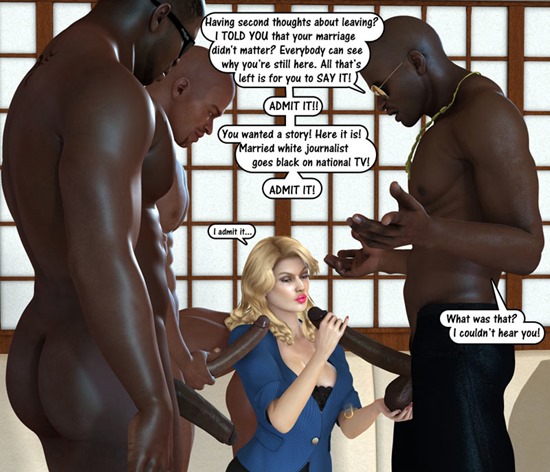 Watch here this blonde slut stroking three monster tools!